One Year Experience with Apple Watch S5 - No Regrets!
I hesitated for a year before writing this article. To be honest, when I bought the Apple Watch, I had doubts for a long time because it is not an essential electronic product. Since its release in April 2015, it has been considered a flashy but impractical product by the public, including myself, and I have always been skeptical about it. However, when the Apple Watch Series 5 was released in October 2019 with the addition of the always-on display feature, it became more acceptable to the general users. So, with a mindset of giving it a try, I purchased my first Apple Watch.
After using it for over a year, I look back at the changes brought by this extraordinary watch in early 2021 and decide to share my feelings from the perspective of an ordinary user.
1. Design
The design of the Apple Watch has remained almost unchanged since its release. It initially featured a rectangular screen, and then with the release of the Apple Watch Series 4 on September 13, 2018, it introduced a rounded rectangular, almost full-screen design with rounded corners. The shape of the case has always maintained the rounded rectangular design, but Apple has differentiated the watch sizes and case materials. Taking the latest Apple Watch Series 6 as an example, the following case sizes and materials are available:
1.1 Case Sizes
1.2 Case Materials
Aluminum
Stainless Steel
Titanium
If we consider the selection of watch bands, the choices become even more complex. Therefore, Apple provides the Apple Watch Studio to simplify the purchasing process. Users can conveniently customize their Apple Watch by selecting the case size, case material, and watch bands to create their own unique style.
It should be noted that the performance and functionality of the same generation of Apple Watch are essentially the same, regardless of the design. Therefore, when making choices based on the aforementioned design attributes, it is only necessary to select according to personal preferences. For example, I chose the 44mm Space Gray Aluminum Nike+ edition (with exclusive Nike watch faces), which is suitable for both daily work and sports scenarios. For individuals with smaller wrists, I recommend choosing the 40mm case size.
2 Features
Most new users are curious about what this watch can do. After more than a year of use, I have summarized the following most commonly used scenarios.
2.1 Time Display
Although this is the most basic function of a watch, it was not until the Apple Watch Series 5 that Apple provided a satisfactory solution. The Series 5 introduced an "Always-On Retina display" which means the watch can display the time at all times. Prior to this, you had to raise your wrist, tap the screen, or use the side button or crown to wake up the display, which was not always convenient. Therefore, the Always-On display is one of the biggest advantages of the Apple Watch, and it is currently available only on the newer Series 5 and Series 6 models.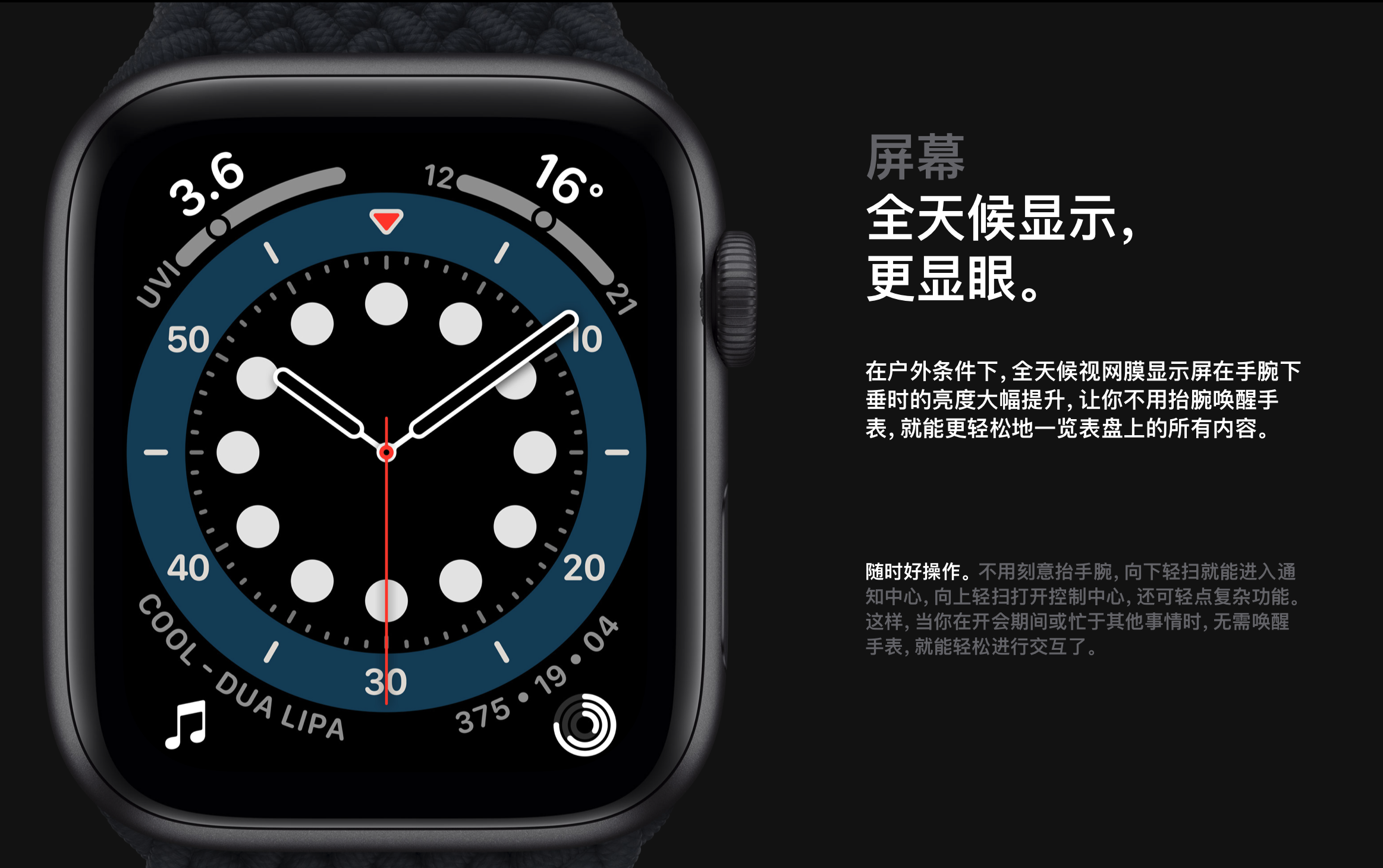 2.2 Customizable Watch Faces
Apple and third-party app developers offer a wide variety of watch faces to choose from. Within each watch face's settings, users can add various shortcuts and complications based on their needs. I personally customize watch faces for different scenarios, such as work, fitness, and leisure, and can quickly switch between them by swiping left or right on the watch's main screen.
2.3 Notifications & Messaging
This was one of the primary features Apple Watch initially focused on. After pairing with an iPhone, the Apple Watch will display notifications from iPhone apps and often provide quick reply options below each notification. For example, if you receive a meeting invitation from a colleague, you can quickly tap to confirm or decline the invitation on your watch. Mature office productivity apps (like Office) and instant messaging apps (like WeChat) have implemented quick reply functionality for Apple Watch.
Typing on the small screen of the Apple Watch is not ideal, so if you need to input longer messages, it is recommended to use voice replies.
2.4 Apple Pay & Transit Cards
The Apple Watch can be used as a payment terminal for Apple Pay, allowing you to make payments using your watch. It can also be used to make payments on buses and subways using contactless card readers. Please note that a transit card cannot be used on two devices simultaneously, meaning if you want to use the same transit card on both your iPhone and Apple Watch, you need to purchase two cards.
Before purchasing, please check if Apple Pay supports the transit card for your city. As of January 1, 2021, Apple Pay's Express Transit cards are supported in 13 cities, including Shanghai Public Transportation Card, Beijing-Tianjin-Hebei Interconnected Card, Xiamen eCard, Tianjin Interconnected City Card, Lingnantong·Yangchengtong, Jiangsu Yikatong·Changzhou, Jiangsu Public Transport One Card·Huaihaitong, Jiangsu Yikatong·Suzhou, Shenzhen Tong, Yanzhaotong, Jinlingtong, Chang'an Tong, and Changsha Xiaoxiang Card.
2.5 Utilities
Unlike the feature-rich apps on the iPhone, many Apple Watch apps are designed to fulfill specific needs and have relatively focused functionality. There are several useful utilities available, such as:
Stand reminders
Breathing exercises for relaxation
Noise detection
Fall detection
Find My iPhone (plays a sound on your iPhone)
Flashlight
Handwashing detection and timer (recommended for 20 seconds)
Offline playback of Apple Music songs
Control of iPhone's audio and video playback volume and song switching
Unlocking Mac
These small tools have improved the overall user experience of the Apple product ecosystem in many details, and such a small computing device can change our habits of using electronic products. As a result, the positioning of the Apple Watch has gradually become clear: it is a complement to the Apple product ecosystem and focuses on fitness and health.
2.6 Fitness and Health
The reason why fitness and health are mentioned last is because I personally believe that it may not be the initial intention for many people to buy an Apple Watch. However, it has inadvertently become one of the most important functions of the Apple Watch.
Apple has packed many sensors into this small watch for fitness assistance:
Blood oxygen sensor (exclusive to S6)
Electrode heart rate sensor
Third-generation optical heart rate sensor
Compass
Always-on altimeter
It is also accompanied by many apps to help you with your workouts. During exercise, you can view real-time workout duration, energy burned, and heart rate. You can also view your fitness records in the Health app on your iPhone. Additionally, in September 2020, Apple launched the Fitness+ service, which aims to provide a unique personalized fitness experience and also supports the Apple Watch (not available in mainland China at the moment). These apps and services make excellent use of the wearable nature of the Apple Watch, transforming it from a nonessential product into a leading device in a specific field.
3 Battery Life
The theoretical battery life of the Apple Watch is around 17 hours, and I have found that its actual performance is similar to the stated value. However, to ensure normal usage on the following day, it is recommended to fully charge the battery at the end of each day. After using it for a year, I took my watch to the Apple Store, and the Genius Bar tested the battery health, which was still around 90% of its original capacity. Therefore, there was no significant decline in actual battery life.
4 Buying Recommendations
In conclusion, I believe you now have a basic understanding of the role of the Apple Watch. Admittedly, it is not a product that everyone must have. However, if the aforementioned features and characteristics align with your needs, it is worth a try. Especially for those who have never purchased an Apple Watch before or those who own an S4 or earlier models, I recommend considering the S5 or newer models because they offer a significant improvement in user experience with their always-on retina display. If budget is a concern, the Apple Watch SE is a good entry-level option as it shares most of its features with the latest S6 model. For users of Apple Watch S5, upgrading may not be necessary unless you have a specific need for blood oxygen monitoring.
As a unique product, I personally recommend purchasing the Apple Care insurance service that is available for the Apple Watch. It provides coverage for up to four accidental damages within two years, and when the battery capacity drops below 80%, it offers free repair service. Due to the high integration of the Apple Watch, repairs usually involve replacing the entire device, making Apple Care a more cost-effective option compared to other products like the iPhone.
Overall, after using the Apple Watch for a year, it
has brought many changes to my usage of Apple products and has provided many new experiences. Compared to the popular iPhone, iPad, Mac, and AirPods, the Apple Watch may not be as familiar, but you cannot deny that it is indeed getting better step by step. I believe more and more people will embrace this smart device that is closest to you.